Carbon Steel Transport Diesel Tanks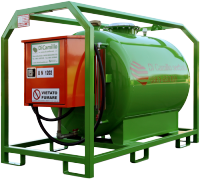 PEM® 1000 - Carbon steel transport diesel tank, capacity ...
Carbon Steel Transport Diesel Tanks certified by Bureau Veritas in compliance with IMDG 32° 04 and Decree of the President of the Italian Republic of 6 June 2005, for the transport of flammable liquids in compliance with the ADR/RID/IMDG standards all over Europe without ADR means or patents.
From 300 litres to 1000 litres as inferred from the ADR excerpt, the diesel fuel transport tanks is to be mounted on pick-ups, vans and other means allowing it. The diesel fuel transport tanks are used for refuelling equipment operating in mines, on building sites, harbours, racetracks etc. The maximum quantity of diesel fuel that can be transported on road according to the ADR standards is 1000 liters.
CHARACTERISTICS:
Cylindrical tanks (vertical-horizontal*) made of premium carbon steel type S235JR in compliance with EN10025/93 thickness 30/10, mounted inside a protective structure against clashes and rolling. A 300-mm top manhole with bolts and gaskets; 3" lockable rapid coupling; 2 breakwater plates to prevent the splashing of the liquid (except for PEM 300 and 400); approved double-action safety vent to avoid any liquid spill in case of overturning with approved safety valve and vacuum breaker. Moreover, on the bottom of the tanks there is an external level indicator. It can be lifted by the special pockets located on the four sides. The tanks are pretreated with a double epoxy primer layer and finished with a double layer of RAL 6018 shiny green two-part polyurethane finish, subject to phosphatising.
FUELLING SYSTEM:
Located inside a RAL 2008 metal orange dispensing cabinet equipped with key lock, includes a 12/24-volt battery pump featuring a flow rate between 22 and 48 LT/min, fuel meter for non commercial use only, subtotals can be set to zero and progressive total counter, a line filter and a 1" antistatic rubber hose with automatic fuel nozzle.
The tanks are delivered alongside with it use and maintenance manual, certificate of approval issued by Bureau Veritas, certificate of type-approval issued by the Ministry of Transport and the Commander-in-chief of the Corps of the Port Captaincies, other certificates set forth by the standards in force; conversion table of the level indicator.
The tanks are available with the following capacities: 300, 400, 600 and 1000 liters.